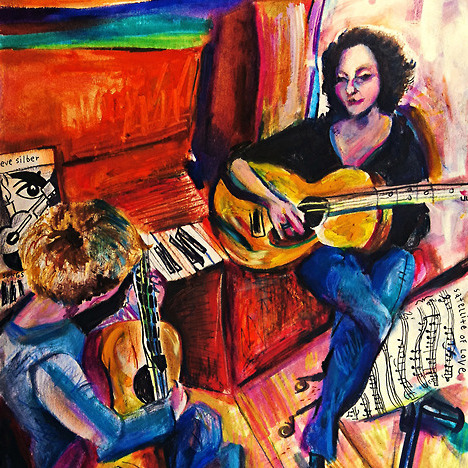 Music Instruction
"Eve is in every respect an ideal teacher. She brings a rigor and seriousness to her work that every student will appreciate, while never losing sight of the creative dimension that lies at the heart of all arts instruction."
— J. Browner (a student and a parent of a student)
Eve Silber works extensively as a vocal coach and guitar teacher for students of all ages in New York City. Among her speacial offeirngs is the fingerpicking styling and teaching method of Dave Van Ronk.
Instrument Type:
acoustic guitar, electric guitar, voice, ukelele, music theory, keyboard
Music Styles:
traditional blues, pop, rock, jazz, alternative, r&b, folk, country, blues
Expertise in:
guitar techniques, pop and jazz singing, guidance in equipment selection, song writing, scales and exercises, music theory, reading music, jamming skills, improvisation, performance, fingerstyle, vocal accompaniment, rhythm guitar
A lesson might entail the following:
Determine a goal and meet it. Open possibilities and have fun. Relax and become proficient. I will adapt to your learning style.
The qualities of an ideal student:
One who takes my recommendations on what and how to practice, and is patient with themselves.
Influences are:
GUITAR: Dave Van Ronk, Frank Christian, Joe Pass, Doc Watson, Neil Young, Beatles, Bob Marley, Charlie Christian, and many more.

VOICE: Sara Vaughan, Ella Fitzgerald, Anita O'Day, Johnny Hartman, Elly Stone, Mahalia Jackson, Edith Piaf, and many moe.
---